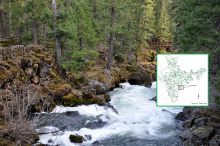 River heights from satellite altimeters (ENVISAT, Jason-2 and SARAL AltiKa) have been derived at two cross-over points along Godavari River. Subsequently, river height discharge stage relationship between altimetry derived heights and In-situ river discharge has been established. Using this relationship, river discharge database for Godavari River for the period i.e. 2002 - 2015 has been generated.
Click Here
to access the Science Products . Request to use MOSDAC Single Sign On user credentials to download the data.
1. GDR tracked data of ENVISAT and Jason-2 (PISTACH Hydrology) at Yanam (estuarine side) and Bhadrachalam (riverine side) for the entire period of respective missions were obtained from
a. ENVISAT website(http://earth.esa.int/)
b.AVISO website(http://www.avisooceanobs.com)(Jason-2)
2. SARAL/AltiKa data were obtained from MOSDAC website (http://www.mosdac.gov.in)
The given range was corrected for

path delay in the atmosphere through which the radar pulse passes
the nature of the reflecting sea surface

All range corrections are added to the range
Rating curve methodology was developed between Altimeter river height and in-situ river discharge (Rantz et al. 1982).
Coastal and Hydrology Altimetry product (PISTACH), handbook 2010.
Frappart, F., S. Calmant, M. Cauhope, F. Seyler, and A. Cazenave (2006), Validation of ENVISAT RA-2 derived water levels over the Amazon Basin, Remote Sens. Environ., 100, 252 - 264, doi:10.1016/j.rse.2005.10.027.
Rantz, S. E., et al. (1982), Measurement and computation of streamflow: Volume 2. Computation of discharge, Water Supply Paper 2175, U.S. Geol. Surv., pp. 285 - 631.
Santos da Silva, J., S. Calmant, F. Seyler, O. C. R. Filho, G. Cochonneau, and W. J. Mansur (2010), Water levels in the Amazon basin derived from the ERS 2 and ENVISAT radar altimetry missions, Remote Sens. Environ., 114, 2160?2181, doi:10.1016/j.rse.2010.04.020.
SMMR and DMSP SSM/I-SSMIS Passive Microwave Data. [October 1978 to December 2012]. Boulder, Colorado USA: NASA National Snow and Ice Data CentreDistributed Active Archive Centre.
The observed river height with respect to geoid is given by
Rh= Hsat-(R+Cw+Cd+Ci+Cst+Cp) (1)
Where

Hsat represents the satellite altitude with respect to reference ellipsoid
R represents the satellite range
Cw(w for wet tropospheric)and Cd (d for dry tropospheric) are corrections for delayed propagation in the atmosphere
Ci is the correction delayed propagation through the ionosphere
Cst and Cp represents the correction for solid and polar tides respectively.
Based on the availability of the Altimeter dataset over the study region (data gap, altimeter track loss, loss of flooding events, etc.).
Data problems due to bad weather (heavy rain)
Limited daily in-situ river discharge data (2007 - 2012) available along Godavari River were obtained from Dowlaiswaram Dam Authorities, Andhra Pradesh.
Hourly river heights/water levels were provided by Dr. Prakash Mehra, NIO Radar gauge at Yanam (Godavari Estuary) for the period 2008 - 2010.
Altimetername_derived_water_height_river_discharge_
Godavari_stationname_starting_date_ending_date
Envisat_derived_water_height_river_discharge_
Godavari_Bhadrachalam_Oct2002_Sep2010.txt
Sr. No
Core Metadata Elements
Definition
1
Metadata language
English
2
Metadata Contact
MOSDAC
3
Metadata date
July 20, 2015
4
Data Lineage or Quality
Water height estimation and computation of river discharge over Godavari using radar altimeters
5
Title
Satellite Altimetry derived discharge over Godavari River during 2002-2015
6
Abstract
River heights and river discharge have been estimated using ENVISAT and SARAL/AltiKa over two sites and using Jason-2 over one site along Godavari River. The results arevalidated well with the in-situ data.
7
Dataset Contact
Dr. Rashmi Sharma OSD/AOSG/EPSA (ISRO), Ahmedabad-380015, India. Ph: +91 79 2691 6044. Email: rashmi@sac.isro.gov.in
8
Update frequency
SARAL/AltiKa and ENVISAT are in 35 day and Jason-2 10 day repetition period
9
Access Rights or Restriction
Open Access
10
Spatial Resolution
NA
11
Language
English
12
Topic Category
Water height estimation and estimation of river discharge
13
Keywords
River, Satellite altimeters, river height, range corrections, rating curve
14
Date or period
ENVISAT (June 2002 to September 2010), Jason-2 ( July 2008 to December 2014) and SARAL/AltiKa (March 2013)
15
Responsible Party
Dr. Rashmi Sharma OSD/AOSG/EPSA (ISRO), Ahmedabad-380015, India. Ph: +91 79 2691 6044. Email: rashmi@sac.isro.gov.in
16
Organization
Space Applications Centre (ISRO), Ahmedabad, India
16a
Org. role
Estimation of river discharge using Remote sensing techniques
16b
Vertical Extent (minimumValue, maximumValue, unitOfMeasure, vertical datum)
Unit of measurement = meter for river height and m3/s for river discharge Datum: WGS84
17
Geographic Extent

UL Coordinates: 19N, 80.5E
UR Coordinates: 19N, 82.5E
LL Coordinates: 16N, 80.5E
LR Coordinates: 16N, 82.5E

18
Geographic Name, Geographic Identifier
Godavari river
19
Bounding box

UL Coordinates: 19N, 80.5E
UR Coordinates: 19N, 82.5E
LL Coordinates: 16N, 80.5E
LR Coordinates: 16N, 82.5E

20
Temporal Extent
Time series plot of water heights and river discharge over Godavari river since 2002.
21
Access Rights or Restrictions
Open Access
22
Distribution Information
Online download in .txt format
23
Processing Level
Level 3 (Data product derived from altimeter GDR data)
24
Reference System
Datum: WGS84